In honor of the Lifetime Original Movie Liz & Dick (premiering November 25) which chronicles the roller coaster love affair of Elizabeth Taylor and Richard Burton, we find ourselves inspired by Liz's iconic Hollywood glamour. Known for curve-hugging dresses, dazzling jewelry and dramatic eyes, Liz Taylor's timeless bombshell look is perfect for the holiday season.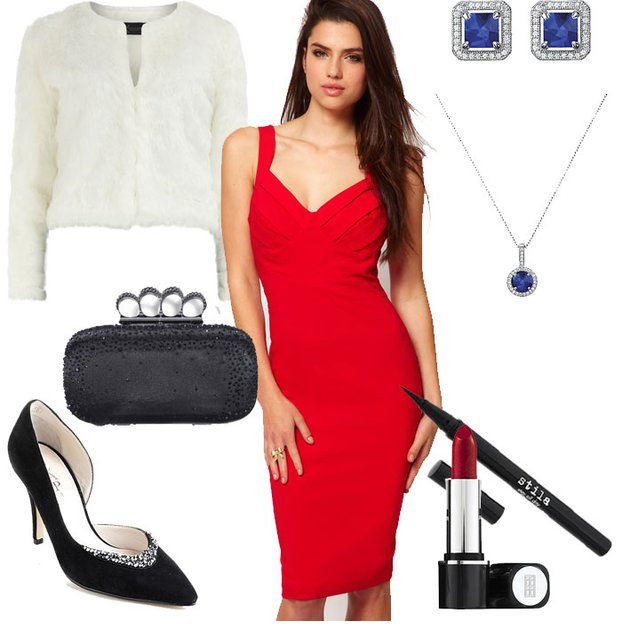 Central to capturing the Liz Taylor look is a form-fitting dress in a bold red color or rich black. Elegant accessories like a classic D'Orsay pump and beaded clutch are a staple of the Old Hollywood look. No Liz look is complete without drop-dead jewels like sapphire or ruby — opt for a matching set, of course. A fur (or faux fur) stole or jacket adds a glamorous finish for this iconic look.
To create Liz's signature eye, a heavy black liquid lined upper eyelid is essential, being sure to draw the line past the outer edge of the eye. Finish with a smokey shadow, full brow and thick lashes. A rich red lip completes the look.
image: Richard McLaren, Lifetime TV
Lindsay Lohan stars as the legendary dame Elizabeth Taylor alongside Grant Bowler as celebrated actor Richard Burton in the Lifetime Original Movie Liz & Dick, making its world premiere Sunday, November 25, at 9pm ET on Lifetime. Based on the true story of the couple's passionate and tumultuous love affair Elizabeth Taylor and Richard Burton were Hollywood royalty and their fiery romance — often called "the marriage of the century" — was the most notorious, publicized and celebrated love affair of its day.
http://www.mylifetime.com/movies/liz-and-dick