This is a Sponsored post written by me on behalf of ANN INC. CAREERS for SocialSpark. All opinions are 100% mine.
ANN INC.* just launched a great new free app to help you put your best foot forward in your career. In addition to amazing behind the scenes videos, the app offers career advice from fashion leaders. You can also take a picture of your favorite things, snap a cool look and share it, and search for job alerts. So if you're interested in exploring a career in fashion, or just simply want a 24/7 friend in the fashion business, this app is for you.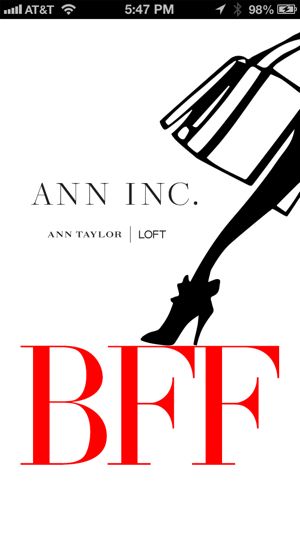 To get the app, download it from iTunes or Google Play  — then start exploring. The first thing you'll see is the daily mantra, quotes from fashion icons past and present. Today's mantra was from Yves Saint Laurent and says, "Fashions fade. Style is eternal." Wise words from the legendary designer.
Next, check out the Trends section where you'll see loads of inspirational pictures and see-it-first trends. Take an Instagram picture of yourself and use the hastag #bfftrends and you'll be featured on the app. In the News section, you'll see blog posts from leading fashion bloggers and career news from the fashion industry.
In the BFF Videos section and Ideas & Insights, you'll find info and inspirational content from fashion leaders in ANN INC. You can learn more about the culture of ANN INC. and explore career opportunities.
Love something and want to come back to it? BFF lets you save what you like to keep track of all the news, inspiration, videos and trends to help you put your best foot forward every day. And did we mention that the app is free? Check it out today!
*ANN INC. is represented by two of the leading women's specialty retail fashion brands in North America: Ann Taylor and LOFT.